Our templates already have elements such as text boxes, titles, images, etc. but you may want to customise your site by adding or deleting certain items.
To do this, you must use the 'Advanced Mode' of your editor by clicking 'Settings' from the sidebar menu on the left, then selecting 'Advanced Mode' (see below).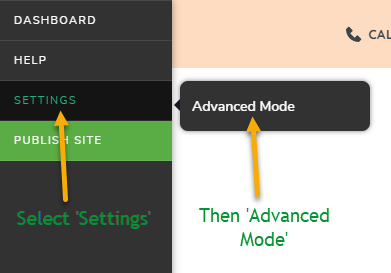 To add an element to a block of your website, look at the top left of your Dashboard sidebar and you should see the menu item 'Add Elements'. Click this, and a menu will appear to the right with all of the different elements available to use. Click and drag the element of your choice to the area of your website you want it to appear.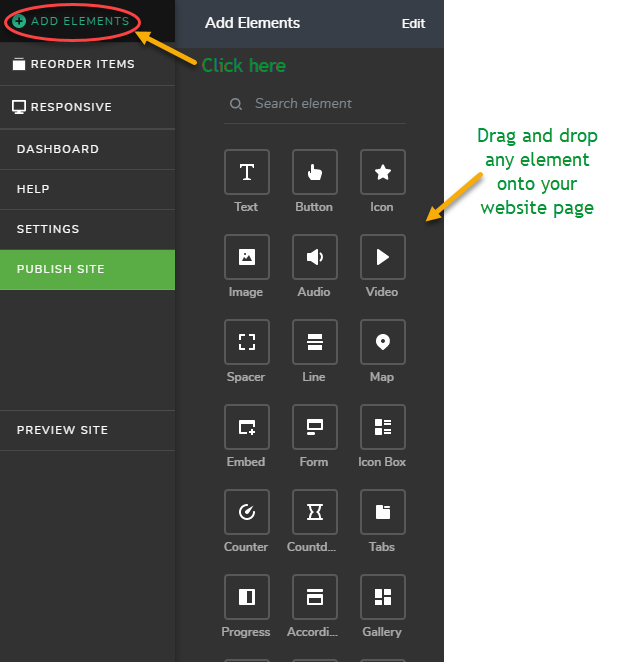 Highlighted lines will indicate exactly where you are dropping the element on your website. Please see below for video demonstration:
As seen in above video, you can also delete items from your page while in 'Advanced Mode' of your editor by clicking on the item and then clicking the 'trash can' icon from the menu bar.

*NB* – Don't forget to click 'Update' in the bottom right-hand corner after you make any changes to your website so they will be saved!